All Things Gutters offers extensive product knowledge, experience and skill to ensure your gutter service is done right, the first time. We offer a full range of gutter solutions, from cleaning to gutter replacement in Ozaukee County, WI. Our clients know they can count on us to provide detailed service and top-quality products that deliver the perfect solution for their gutter needs. Our comprehensive gutter services include: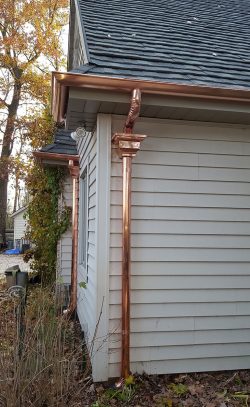 Gutter Installation: Gutters are an important part of your property. This system is designed to move rainwater away from your roof structure, fascia, soffit and foundation. Proper installation of quality products is vital to protecting these structures. All Things Gutters offers professional-quality installation of leading brands to ensure your building is safeguarded against rainwater damage. Our expertise includes seamless gutter installation in Ozaukee County, WI.
Gutter Protection with Gutter Guards: Clean gutters are important. When clogs happen, it can cause damage to your roof, foundation, and the entire gutter system. Gutter guards keep rainwater flowing freely through your gutters, and can help to prevent the accumulation of debris that causes clogs. All Things Gutters offers gutter guards to our residential and commercial clients in Ozaukee County, WI.
Gutter Repair: As important as rain gutter installation in Ozaukee County, WI is, maintaining those gutters is just as critical. Our experienced team will inspect your gutter system and make all necessary repairs to keep it functioning smoothly. We offer personalized service and reasonable rates, to ensure your complete satisfaction. It's why we are the go-to source for gutter repairs in Ozaukee County, WI.
Prevent Ice Dams with Heat Cable Installation: Ice dams, those dangerous ridges of ice that form along your roof's edge can cause extensive damage to homes and commercial buildings during the cold winters in Ozaukee County, WI. Heat cable installation from All Things Gutters is a cost-effective way to prevent the buildup of ice, and can save you a world of trouble in the long run.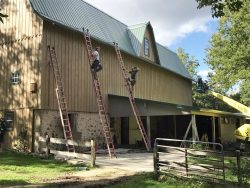 All Things Gutters offers the following products to meet all your gutter system needs:
Seamless Aluminum Gutters
Copper Gutters
Downspouts
Steel Gutters
Rain Gutters
We proudly provide the following industry-leading brands:
Reynolds
Rollex
Raindrop Gutter Guard
Gutters
Sizes of Gutters
5″, 6 ", 8"
Styles of Gutters
K-Style Gutters and Half-round Gutters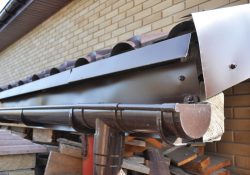 Downspouts
Sizes of Downspouts
2×3, 3×4, 4×5
Round 3 Inch, Round 4 Inch, or Round 6 Inch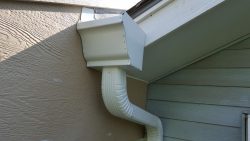 Contact All Things Gutters today at 262-894-9393 to start on your next project. We look forward to delivering top solutions for your residential and commercial gutter systems.